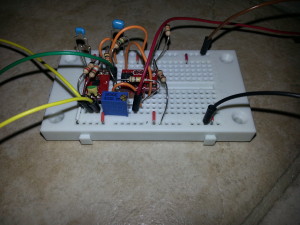 I've been experimenting with electrophysiology for some time and therefore the need to better understand the amplifier circuitry arose. I sampled some INA321 instrumentation amplifiers from Texas Instruments and started experimenting. After soldering them to a breakout board you can breadboard them.




The simple setup below can readily be attached to an analog to digital converter of a microcontroller and to 3 skin electrodes wherever you like to attach them 😉




Besides the instrumentation amp (chip on the left) only one additional dual low-noise opamp is used, which implements a buffer for reference voltage and a bessel filter for reducing mains line interference.




Eagle schmatic:




simplestEEG