When working with RF modules that transmit/receive in the 2.4GHz or whatever range it's sometimes useful to have some means to detect whether transmission really takes place. This wideband RF detector based on the LT5534 by Linear Technology is capable of doing so. Moreover it can tell, how strong the signal is, since its output ranges from 0V to VCC (5V in this case) and is proportional do the dBm of the received signal. The chip can be for free, which is what I did. The idea for this project as well as the first carrier board design was originally from Laboratory for Experimental Computer Science
at the Academy of Media Arts Cologne.




I improved the board a little and ordered some PCBs from OSH Park It takes about 2 weeks for them to arrive in Germany and costs almost nothing, since the boards, like the chip itself are tiny. Apart from the LT5534 itself the carrier board uses few standard components.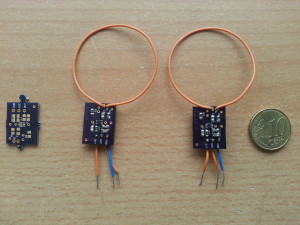 To have an audiovisual output I decided to add a LM3914-based bar graph meter and a speaker with a TL072 opamp buffer, since I had both of them lying around luckily. I added the buffer because the LT5534's output cannot deliver enough current to drive the speaker's membrane adequately. What you hear is the raw modulation of the incoming RF signals. It's like getting a 6th sense for the invisible RF pollution around you. For example if you hear periodic knocking sounds, it's probably from a WiFi router.










Here's the preliminary breadboard version of the ciruit. The loop antenna was made for 2.4GHz but the device still receives signals over a pretty wide RF band. The PCB was designed specifically for the depicted enclosure. The carrier board will be connected to the bar graph board. The loop antenna will be replaced with a SMA jack with a coax cable pigtail to have the possibility to connect different antennas for different frequency ranges.










DIY PCB ready to be built into the project box: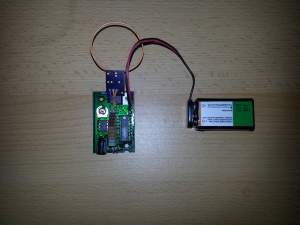 Now with loop antenna removed and SMA jack attached via coax pigtail.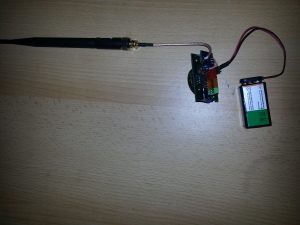 Here are the modified schmatics and board files for the LT5534 carrier board:




LT5534 rf detector




Here is the board file and schematic for the bar graph and audio amplifier:




LM3914 rf signal strenth meter