While browsing some adafruit pages I came across this one.
I thought it would probably be useful to have completely hackable scales for some future project or just for household use and so I adapted the hardware frome the above tutorial.




Since I was only able to find the SMD version of the INA125 I had to make a PCB again, but this is not my first DIY PCB, so the process was pretty easy.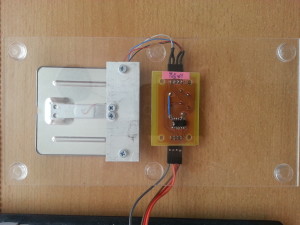 If you are looking for small load cells on ebay or similar shops, you will probably figure out that a cheap mini scales (around 4€) is even cheaper than a single load cell of comparable size (5€). This is why I purchased the complete device rated for up to 1 kg and disassembled it. Prior to taking it apart I measured the weight of some small household items to use them as calibration weights later on in the calibration process. The second advantage you have when getting complete scales is the flat and stable platform mounted on the load cell for you so you don't have to do it yourself.
Here's the complete scales on a breadboard. For wiring of the analog part with the microcontroller check the tutorial above.
The load cell was mounted to an acrylic plate with a piece of aluminum in between for stable weight distribution.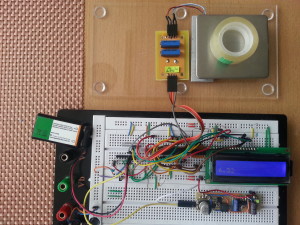 Here's the schematics and the board file for the SMD INA125 (as always in eagle format):




Load Cell Amplifier




Update: After finding the HX711 breakout board on ebay I upgraded the scales board to this interesting part. It's a 24 bit ADC that can communicate to a microcontroller over a synchronous serial protocol. It is specifically designed to amplify signals from load cells and gives you a higher resolution (0.1 g). Several Arduino libraries for this chip are around.